A solo exhibition of new abstract works by Kate Trafeli
9 May to 24 June 2022
The Union Club is delighted to present a solo exhibition by American British artist Kate Trafeli and a new collection of abstract works informed by her move to London from Italy where she had lived for a decade.
The vibrant paintings and mixed media works presented in Attraverso are a direct visceral translation of the artist's memories and emotional experiences. It is also one in which colour plays the leading role.
For Trafeli, painting is not a cognitive process. It is an intuitive reflex driven by synesthesia, a neurological phenomenon affecting a small percentage of the world's population. "In my case, this simply relates to the fact that when I feel an emotion I won't have a word that comes to mind, but rather a colour". Other artists also noted as synesthetes include Wassily Kandinsky, Van Gogh, and David Hockney.
In her abstract landscapes, such as Centro Verde and In Fiamme, vivid swathes of tangerine, deep crimson, bright pinks, blues and greens are offset by distant horizon lines. "My abstract landscape works often evoke a sense of place, wild and uninhabited. For me, these works are internal landscapes rather than actual places, but as a displaced cowgirl from the wild west of America there is no denying the impact of big skies and unending plains. My work uses saturated colour as a mode of conveying meaning. Colour is emotive and that is felt in all my work".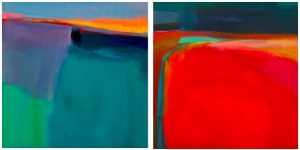 Left: Centro Volte Right: In Fiamme
In Trafeli's work, we also see shapes and symbols set adrift within the picture plane that elude to moods and narratives. In La lanterna del mare, for instance, a boat and a gaslight float at diagonal ends of the canvas.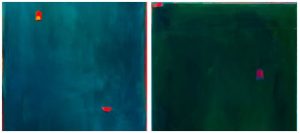 Left: La lanterna nel mare (detail) Right: Mondegreen (detail)
Titles also hint at reference points, taken from literature, poetry, pop music or street names, and the artist's love of the Italian language. Trafeli describes her exhibition title Attraverso, as: "meaning 'through' – like stepping through, passing into somewhere. I like to think of paintings as somewhat transporting, and I like Italian titles not just because of my own life experience but also because they are not so easy to literally parse. Also, The Union Club is a bit of a magical world, so it suits the place too".
Biography
Kate Trafeli was born in Akra, Ohio, USA. She studied at Tulane University, New Orleans; the University of Michigan; University of Massachusetts; and Gonzaga University in Spokane, Washington, where she completed her B.A. in Fine Art and English Literature. After Nyne Contemporary represents Kate Trafeli in London. The gallery has presented her work in group and solo exhibitions, and annual editions of the London Art Fair; Affordable Art Fair (London, New York); she has also exhibited at The Other Art Fair (London, NYC, and Los Angeles). Kate Trafeli is on the steering committee for the annual N22 Open Studios showcasing over 100 artists and their impact and value to North London's diverse communities. She is also a guest tutor in intuitive abstract painting at Coombe Farm Studios in Totnes, Devon.
Visiting
Tuesday to Friday | 10am to 5pm | 9 May to 24 June 2022
The Union Club | 49-50 Greek St, London W1D 4EQ | www.unionclub.co.uk
Enquiries & Sales
Roz Arratoon: roz@unionclub.co.uk | +44-0-7941 027 921 |