22 March until 6 May 2022
Lucie Flynn's first central London solo show is a bold and feminine nod to street art counter-balanced by her training in fine art and printed textiles.  Having spent time during her early career with street artists such as Ben Eine and Banksy, an urban influence is clearly at play in Flynn's work.
Her practice is one that seeks immediacy and mishaps, with a fluidity and finish that appears unlaboured and imperfect.  Depicting softly focused nudes, faces with come-hither eyes – be they cats, humans or cows – Flynn's works on paper and canvas employ the use spray paint, ink, and acrylics, to achieve the bright colour palette that has become synonymous with her style.
In the text-based artworks Rebel Mother / Rebel Daughter, the series is daubed with paint drips and splashes, effectively animating a simple banner message into an empowering call of action.  Her ongoing Cow series, the first of which was bought by Banksy as a gift for Damien Hirst in the early 2000s, presents sleepy-eyed cows emoting a winsome look.  Flynn recalls: "The first series of Cows lasted years and they really changed through that period. Each series is completely linked with my life and an experience and I then develop tons of sketches and play in the studio until something clicks. Mistakes and chance are a huge part of my process."
Other works featured in the exhibition include Flynn's Nudie series; stenciled text pieces: Sex and Sacrifice – both of which are a collaboration with Ben Eine; her cartoonish SneelKats; and new abstract paintings.
In addition to her studio work, Flynn has once again taken up street-based art, which, as a woman and mother of two children, is not an easy route to pursue.  Talking about her work: Strength (2020), a mural that formed part of a joint commission with Ben Eine, she says:  "There are not enough women represented in the street art scene or graffiti scene.  I wanted to produce an artwork that had life and power to it.  Strength reflects women who mean business!"
The theme of powerful femininity is evident throughout the works on show in Be An Exceptional Woman.  Lucie Flynn notes: "This collection of work has a very personal flavour. My art speaks for itself – I do not care for unnecessary words describing my practice; my wish is for each piece to resonate with the viewer and alight something in themselves – a strength, a memory, a moment of connection.  In the end each work becomes a self portrait – forever evolving as a woman and using my experiences to inform each piece."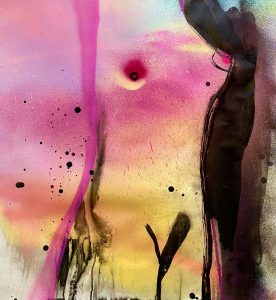 Biography
Lucie Flynn was born in London in 1973 and now lives and works in Surrey.   After attending Reigate School of Art she began her art career producing and exhibiting work on the top floor of The Dragon, Shoreditch, with artists such as Julie Verhoeven and Wolfgang Tilmans when the area was a hotspot for creatives who are now household names, i.e.: Jake and Dinos Chapman, Scott King, Ben Eine and Banksy.  Around this time, Flynn was scouted to work in the production and management team at Damien Hirst's studio and alongside him on international exhibitions and his personal art collection.
Her first street art series: Nudie, was fly posted around east London in 2000 and other street works have since appeared in the city, as well as Carlisle and Copenhagen; with many more due in the coming year.
I am so Busy, the artist's first solo exhibition at This Way Up Gallery, Shoreditch (2000), was a sell-out.  Numerous galleries have gone on to exhibit her work, recently including three group shows: Up at Jealous Gallery, Shoreditch (2020), Yes at Gallery 46, Whitechapel (2021), and She/Her/Hers at Oakland Gallery, Liverpool (2022).
Lucie Flynn is currently preparing for a group show at Black Book Gallery, Denver, USA, and a limited print edition with Schaefer Grafik, Copenhagen, Denmark. She has worked and continues to work on collaborative street art projects with Ben Eine, one of which was publically funded by Carlisle City Council (2020).  Further street art projects in the pipeline include: Denver, USA; Liverpool; Folkestone; and a new collaboration with Ben Eine in London for later this year.
Press coverage includes The Telegraph ~ Stella magazine, GQ, Vogue, Living Etc., and BBC South East News, to name just a few.
Lucie Flynn's work is held in numerous UK and international private collections.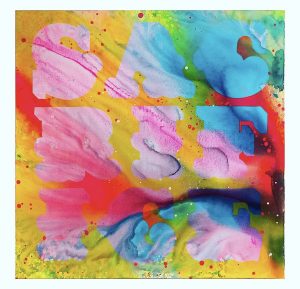 Visiting – Tuesday to Friday  | 10am to 5pm | 22 March to 6 May 2022
Sales – For enquiries and a price list, contact Roz Arratoon: roz@unionclub.co.uk | +44-0-7941 027 921