Union Club member Joel Levack always has an interesting project on the go. We caught up with him during lockdown to ask what he's up to right now, and what's coming up down the line.
"As you know I have a fairly eclectic career but, on the whole, most of my work falls under the banner of the arts. When I first joined The Union Club, not long after moving to London, my old school friend and I opened one of the cites first pop up art galleries. I can proudly say it was before the term pop up! Pete and Michaela then got us in to curate a rolling show of art on the available club walls. We ran that collection between 2004 – 2006 and it was always a joy and a challenge to slot work in amongst a wonderful permanent collection of art and artefact.
With that in mind, it was an honour to be able to hire out the studio space back in 2016 for an exhibition called "12 Tallest". It featured acrylic on canvas paintings of London's ever changing cityscape. Back then I wouldn't really consider myself a full-time artist – I simply found the time between film and event jobs to make some work.
At the end of 2019 I made the decision to have another run at being a full-time artist. Something lockdown has only enhanced. The bits of film and event work I had pencilled for 2020, have firmly rolled off a cliff, and I've been able to dedicate 100% time to my studio practice.
That practice is twofold. Firstly, I'm re-engaging with the world of art in the public realm, and applying for competitions, commissions and opportunities in London across the UK. Sometimes, it's my own idea for a work, or often I team up with photographers and architects and submit a joint proposal under our collective name Thames Levack.
Our most recent project is an outdoor exhibition with photographer Richard Piercy. He'd been into town and was really affected by the lack of people and the amount of boarded up shops. With this in mind, he called on the huge black and white portrait collection he's worked on over the last 5 years. Richard is really interesting, as well as being a photographer he worked as a chemist in Soho, running a pharmacy for 30 years. This has given him a great knowledge of the people who live and work here. With that in mind, and in a desire to restore some humanity to the streets we installed these large printed portraits on various closed bars and restaurants. The show, featuring 23 works will be up until early July, and is of course slightly governed by when places can reopen. You can find photos @someoneofsoho on Instagram.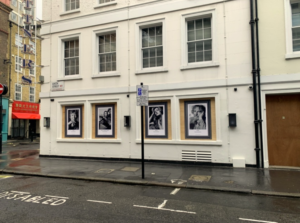 Secondly, I'm drawing, painting and making works towards a new exhibition of my own. I've hired out the studio space again, and this time I'll be having the Private View on my 40th birthday (Monday 7th September). It's a good trick for convincing people to come along. The work resonates with something I've worked on over the last decade – the desire to climb a mountain in The Antarctic. It's an un-climbed peak that sits 2751m above sea level, and I've done all the planning (alongside a guide) to get my out there on my first polar expedition. The only obstacle is financial. With this in mind, the money raised from the show will all go towards the fundraising. One can only really travel there between November to February, so it's a fairly tight window, and I can only go when I've fully raised the funds. I'm probably 20% there!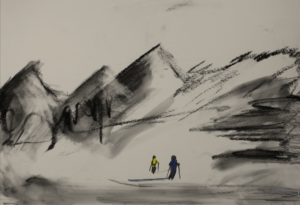 "Roped on" Charcoal and crayon on paper 420mm x 594mm
All being well I will be accompanied by a photographer to capture the trip on camera and I can't wait to be able to paint more pictures of the White Continent.
The show will be called Route 1, a nudge to the fact I'm back on track with my initial career path, and a term used in mountaineering when planning climbs. The show itself will also feature artworks inspired by the relationship between mountains and bikes, something else I've enjoyed a passion for in my 30s.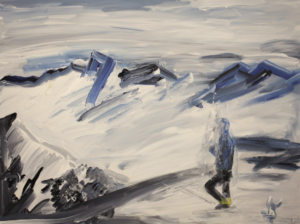 "Mt. Anderson" Acyclic, PVA and drawing on paper on canvas 600mm x 800m
My artwork is on Instagram @joel_levack_studio. You can connect with my public art projects through thameslevack.com.