UNION CHRISTMAS DATES!
We will be open until and including Thursday 23rd of December – plenty of time for festive merriment. Then we'll shut up shop until Tuesday January 4th.
UNION CHRISTMAS MENUS!
Don't be a turkey – book your Christmas lunch or dinner soon. Dates are filling up fast!
Email reception@unionclub.co.uk to book, or for larger tables (10 or more) please email Coren (coren@unionclub.co.uk)
Christmas Menu 2021 – Gluten Free
UNION CHRISTMAS CARDS!
They're back!
Share the Union Christmas joy far & wide with our 2021 club Christmas cards. Perfect for those who have good memories of the Club, or for those who haven't been lucky enough to experience the real thing just yet.
A5 size, featuring an illustration of the Channing Williams room by the wonderful JP Flintoff.
£7 per pack of 10 if collected in the Club
£10 per 10 pack incl. postage to a UK address: ORDER HERE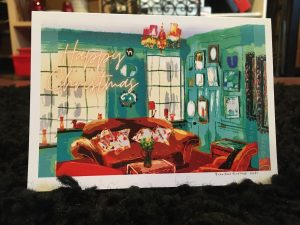 THE GIFT OF THE UNION
For when a card won't quite cut it – you can give a VERY SPECIAL present to a VERY SPECIAL friend or family member, colleague or client… A gift that will genuinely last all year long!
WHAT'S INCLUDED
– Twelve months of good times
– a private place to relax and let loose in the heart of Soho
– a calm space to work from
– a Union Christmas card (from the Club, or left blank for you
– a Union membership card (naturally)
– a voucher for a complimentary bottle of Union wine on their first visit
– all wrapped up in a lovely Union tote bag
WHAT'S THE DAMAGE
£500 for their first year, incl. tote bag, wine voucher and postage to any UK address.(If they wish to continue their membership once their gift year is over they will revert to the standard membership fee!)
Additional discounts available for Under 35s, Out of Towners, or direct family members. Please enquire.