Whether you've always had visions of getting wed in a stately home, love the romanticism of older buildings, or the history geek within you pines for some heritage on your big day, there's much to consider when deciding on a period wedding venue.
From budget to location, menu to entertainment, ambience to events team, you'll find you have all the usual wedding decisions to make. But for the wedding savvy, the perfect venue will make itself an easy choice. If you need a little help and guidance along the way, the historic Union Club is on hand with the pros and cons of choosing a venue steeped in history.
The pros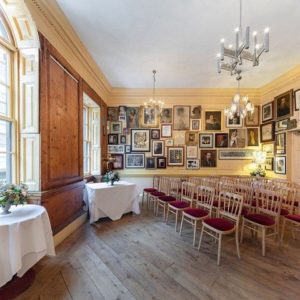 Truly unique venues
Let's face it, if you've been to one church or high end hotel, you have been to them all. While churches and hotels (the mainstay of a number of wedding venues), are all very good at what they do, historic venues rarely conform to universal norms when it comes to interior design. For every ornate fireplace, piece of fine art and impressively high ceiling, there will be quirky rooms, truly unique furnishings and wonky staircases galore.
The best bit is that these venues impress whether you go all out with decorations or not. The quality of the décor will speak for itself.
When it comes to exteriors, a period façade conveys a timeless sense of finesse and wonder, that modern day buildings just cannot exude. There's no denying a period building will provide a unique architectural backdrop for your big day.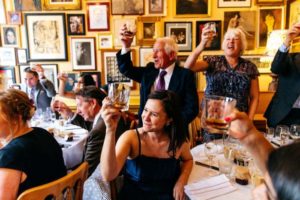 Lose yourself in another time and place
Historic buildings are full of character, romance and folklore. Whether you are spending the day in a castle fit for a medieval royalty, or reveling in the decadence of Georgian splendor, these centuries old buildings carry the footprints of all those who have gone before.
Holding your big day in a historic property connects you with its story and to all of all those who have lived and breathed within its walls.
Historic buildings are still here because they have simply withstood the test of time. Where better to make your vows? Standing proudly for centuries, just like your promise to each other, these buildings will continue to be here for years to come. Perfect for if you want to renew your vows or pop back for your anniversary.
Photographers dream
A historic property guarantees plenty of stunning photo opportunities – inside and out. Not even the notoriously unpredictable British weather will ruin your wedding photographs if you have amazing interiors as your backdrop. From cozy winter weddings in front of roaring gothic fireplaces, to summer ceremonies on a freshly manicured lawn – period properties have it all.
Events teams that truly care about the venue and your big day
There's something special about period properties and you'll often find that those who work there have a love affair with the building. These are the events teams you want to seek out – the ones who have a fond pride of where they work and know every nook and cranny of the venue inside out. They will be passionate about ensuring you get the best out of the venue and have a truly wonderful day.
The cons of choosing a historic venue
Not every historic building will have all the mod cons
Historic properties are not purpose-built events venues and will have been conceived in the days long before central heating, air conditioning, TV, sound systems and the internet. This does mean that (at some properties) you may find the odd niggle when it comes to the quality of audio visual and sound systems, along with limitations on comforts such as air conditioning. You don't want your DJ set ruined by poor technology or your old aunty Ada complaining that she's been sitting in a draft all day.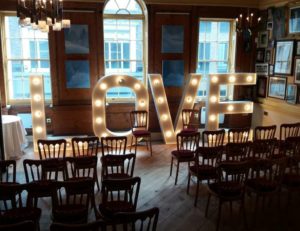 Make sure you visit your venue at the same time of year you plan to be wed and talk through all your requirements in full – especially when it comes to entertainment – with the venue's team. They will be more than happy to help, so don't feel silly asking questions. The Union Club for instance is well versed in holding events from film premiers to film quiz's (and everything in between), so will have all your technology needs in hand.
Quirky room layout
Older houses were used as homes and may have been remodeled and extended many times over the years. Through the centuries the way we live has changed and stipulations put in place on listed buildings can result in some quirky room layouts. You may find the dance floor in an adjoining room, or maybe the bar is on a different level to the main dining room. In some venues the walk to the toilets feels like a three-mile hike (sometimes in a different building). Don't expect the vast, cavernous, open plan spaces that you'd see in a modern venue – that said, some venues do hold surprises, such as the Studio at the Union Club.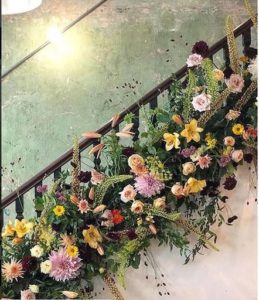 While you do need to think about how room layout may effect the flow of your day, if your venue has a experienced events team, they'll know exactly how to make things work perfectly for you.
Accessibility
Older properties were not built with accessibility in mind and far predate things like Building Regulations. If you have wheelchair users or those with poor mobility attending your wedding, then keep in mind that a historic building may not meet their needs.
It's always worth talking to the venue to see if they have provision in place.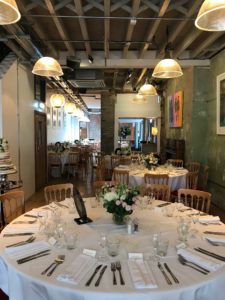 The Union Club
So if you think a heritage venue may be for you, take a look at the Union Club Soho. Our beautiful, but eclectic 300-year-old Georgian town house, oozes quirky sophistication and bohemian charm, ensuring your wedding day will be one to remember.
Our Private Members Club offers an exclusive Soho location – often kept secret by the great and the good of the London arts community – that offers both a rich heritage and stunning backdrop for your wedding day. With a sunny roof garden and three floors of versatile events space, the Union offers a wide range of rooms for your ceremony and reception.
Our friendly and experienced events team is here to put you at ease and ensure your big day is a faultless celebration of all things love. While the Union Kitchen, headed up by Our Head Chef, Carolyn Dawson, offers robust and unpretentious food – in the best Modern British style – but with an international twist.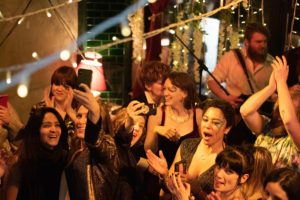 We are fully licensed to hold weddings and civil ceremonies, and can cater for every part of your celebrations. So whether you want us for the full day, or the reception, we'll have a wedding package to suit you.
Do call us today on 0207 734 4113 to book a tour, meet our team and arrange to try our food. We'd love to meet you. Alternatively fill in our wedding enquiry form, or find out more about our weddings and packages online.
For more wedding inspiration find us on Instagram.